The Chipmunk Adventure
Patrycja Skóbel
Studentka uczestnicząca w kursie International Children's Film
(pod kierunkiem dr hab. Justyny Deszcz-Tryhubczak)
The Chipmunk Adventure is an 1987 American animated film directed by Janice Karman and written by Karman and her husband Ross Dickran Bagdasarian. It is based on the Saturday-morning series of cartoons called Alvin and the Chipmunks. In this film, all the chipmunks have voices resembling those of children and are dubbed by Janice Karman and Ross Dickran Bagdasarian. Karman dubs the voices of Theodore, Brittany, Janette and Eleanor, while Bagdasarian – the voices of Alvin, Simon and David "Dave" Seville.
This animated cartoon presents the adventures of six chipmunks and chipettes who, with the help of the diamond-smuggling siblings Claudia and Klaus Furschtein, set off for a race around the world. Their goal is to deliver twelve dolls filled with diamonds to the appropriate locations marked on the map. They are divided into two teams and Claudia and Klaus promise to give $100,000 to the team that will manage to win the entire race. At the very beginning of the journey, they do not know that their dolls are filled with diamonds and that those they receive contain money. The problem begins when enemies appear on their road to success, trying to take these dolls away from them. Despite the adversities, the chipmunks and the chipettes do not give up so easily and bravely fight to get the dolls back and to win the race.
Taking into consideration the fact that this film was made in 1987, it can be safely said that, for those times, it is refined to perfection in every way. In practically every scene, one can notice the focus on details, a carefully thought-out scenario and perfectly selected characters, whose dialogues make both children and adults laugh. These characters are divided into good and bad. The good ones – the chipmunks and the chipettes – want to win the race and get the grand prize of $100,000. However, the bad ones, namely Claudia and Klaus Furschtein and their collaborators, are constantly trying to prevent the chipmunks and the chipettes from winning this race and achieving their goal.
Fortunately, after some time, the chipettes find out that the dolls are filled with diamonds and that they have been deceived by Claudia and Klaus. They decide to help save their friends, the chipmunks, who are stuck in the jungle and are in danger. After a successful rescue, both groups return safely to the airport, where their caretaker David Seville awaits them.
Overall, aside from an interesting plot, The Chipmunk Adventure is additionally enriched with catchy songs sung by the chipmunks and the chipettes at various important moments. High-quality graphics and rock and roll music create a very interesting combination that has a positive effect on the audience. The dialogues are entertaining and ideally adapted to the situation and the character. This film addresses many important social issues, such as the concept of competition, honesty and cooperation. It is timeless, because it carries a powerful message and makes not only children but also adults reflect on their values and behavior.
In conclusion, I recommend this film to any viewer regardless of age because it is not only instructive but also full of many amusing scenes and dialogues that will make even the most demanding viewers laugh. I consider this movie timeless, because no matter what age I am, this cartoon is, and will always be relevant and important to me. It is definitely one of my favorite movies from childhood as it provided me with many unforgettable impressions that made me remember it with great fondness to this day. I can confidently recommend it to both children and adults.
Bibliography:
Lenburg, Jeff. The Encyclopedia of Animated Cartoons. New York: Checkmark Books, 1999. Retrieved June 6, 2020
The Chipmunk Adventure. Directed by Janice Karman and Ross Dickran Bagdasarian, Bagdasarian Productions, 1987. Accessed 9 Jan 2021.
Wikipedia Contributors. "The Chipmunk Adventure." Wikipedia, 18 Dec. 2020, Available at: https://en.wikipedia.org/wiki/The_Chipmunk_Adventure Accessed 9 Jan 2021.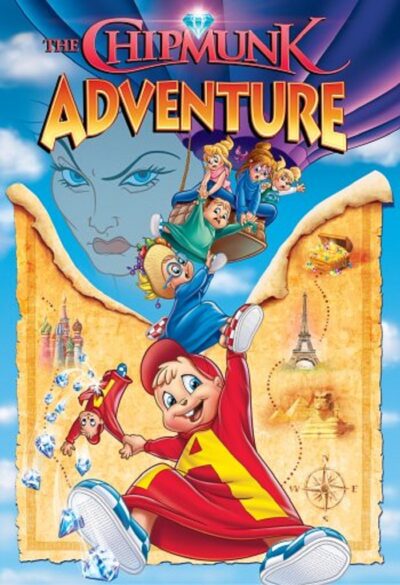 tytuł: Przygoda wiewiórek
rodzaj/gatunek: animacja, przygodowy
reżyseria: Janice Karman
produkcja: USA
rok prod.: 1987