Akeelah and the Bee
Justyna Mętrak
Studentka uczestnicząca w kursie International Children's Film
(pod kierunkiem dr hab. Justyny Deszcz-Tryhubczak)
Cultures may shape children's development in various ways, but one universal experience seems to unite them beyond all boundaries: the smart but lazy child is present everywhere. Akeelah Anderson, portrayed by the wonderful then-rising star Keke Palmer, is the African American eleven-year-old protagonist of Doug Atchison's children's film Akeelah and the Bee (2006). She seamlessly fits the trope of an unmotivated child prodigy as she inherits her father's natural talent for spelling, yet she refuses to leverage her potential at school by missing classes and not submitting her homework. When a teacher discovers her hidden ability, Akeelah sets her heart on winning the Scripps National Spelling Bee. What first started as Atchison's reflection on the 1994 contestants coming from primarily privileged backgrounds ended up becoming a classic example of the long-overdue positive Black representation on the screen.
Raised in South Los Angeles by an overworked single mother of four (Angela Bassett), Akeelah cannot rely on anyone's support at home. Not only does she get made fun of at school, but also her family continuously disregards her unusual passion for spelling. However, the photographs of Akeelah's late father enable her to pursue her dream and take the chance in a district spelling bee. There she befriends Javier Mendez (J. R. Villarreal), a Mexican American boy, and Dylan Chiu (Sean Michael Afable), a Chinese American boy, both from a school in Santa Monica. Coming from a lower-class neighborhood, Akeelah immerses herself into the predominantly white and upper-class world of spelling bees with the help of her newly met coach, Dr. Joshua Larabee (Laurence Fishburne), who is simultaneously grieving after the loss of his daughter. Dr. Larabee's mentoring methods do not resonate with Akeelah at first, but later she realizes their efficiency as they come from his firsthand experience and encouragement to learn the power of words and African American history. At the same time, they bond over their grief, which resembles the missing father-daughter relationship in their lives.
Akeelah's achievements quickly make her the object of media interest and the neighborhood's sensation. When the protagonist goes to Javier's birthday party with her best friend Georgia (Sahara Garey), the latter gets discouraged seeing the number of white guests. This reaction highlights the struggle against exclusion and social inequalities so present in American society. Nevertheless, Atchison manages to depict the issues of Black communities in a non-stereotypical way. While there are a few mentions of gangs and shootings, such as the one in which Akeelah's dad passed away, the film moves even the toughest viewer to tears with the portrayal of Black joy and pride.
Although aimed at young audiences, Akeelah and the Bee holds a strong message and can be enjoyed by people of all ages. It is not only a heartwarming production providing a rare example of positive Black representation in media with great cast performances. Among the topics of community, friendship, and first love, it addresses the issues of racism, flawed educational system, winning-obsessed culture, and class distinction. Therefore, it can also work as a tool to teach children about residential segregation in the United States, as well as about facing the loss of their loved ones. Moreover, it carries a universal message accompanied by Aaron Zigman's musical score: every child has a unique ability and potential to achieve astounding things.
Works Cited:
Atchison, Doug. "Akeelah and the Bee Production Notes". Internet Archive. [www.web.archive.org/web/20130507071056/http://www.hollywoodjesus.com/movie/akeelah_bee/notes.pdf]. Accessed 21 Jan. 2021.
Atchison, Doug. Interview with Brian Stitt. Student Life Archives, 7 Apr. 2006, www.studlife.com/archives/Cadenza/2006/04/07/AkeelahandtheBeeAnInterviewwithDougAtchison. Accessed 21 Jan. 2021.
Atchison, Doug, director. Akeelah and the Bee. Lionsgate Films, 2006.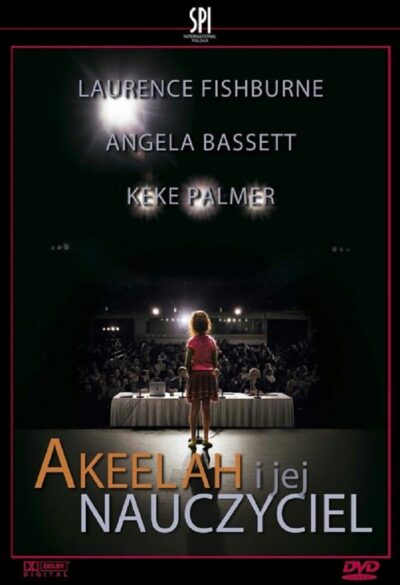 tytuł: Akeelah i jej nauczyciel
rodzaj/gatunek: dramat, familijny
reżyseria: Doug Atchison
produkcja: USA
rok prod.: 2006